DENTAL IMPLANT USES:
Full mouth reconstruction utilizing implants and crowns


Dental implants have become the gold standard for replacing missing teeth and securing loose fitting dentures. At Chomiak Dental we utilize state of the art technology and techniques to make your implant experience simple and easy. Dental implants can be used to: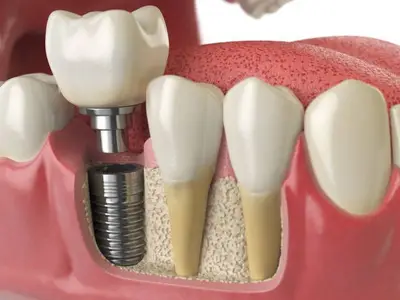 Replace single missing teeth.



Secure loose-fitting dentures with snap on Locator Attachments.
Permanently replace missing teeth in edentulous patients with fixed bridgework. (All on Four Hybrid Prosthesis).
Replace segments of missing teeth with implants and bridgework

WHY CHOOSE CHOMIAK DENTAL FOR YOUR IMPLANT PLACEMENT?
Chomiak Dental utilizes the latest technology and techniques to insure safe, precise placement of your dental implants for beautiful esthetics and exceptional function. Since we both place and restore the implants, you are assured to get a comprehensive treatment plan where you can decide which treatment options are best for you. Since all services are performed in one facility, you will have consistent continuity in treatment without going from specialist to specialist.


IMPLANT TECHNOLOGY AT CHOMIAK DENTAL:
I-CAT CT-SCAN
All cases are virtually planned using an I-Cat CT-scan and computer technology to ensure optimal implant placement. Surgical Guides can be fabricated from the scans to allow even more precise implant placement and the option of flapless surgery without incisions or stitches conditions permitting.
Images used to place implants from I-CAT
OSTELL
Implants are tested for osseointigration stability with an Osstell Instrument to assure the implant is ready for restoration. All patients heal at different rates. This insures the doctor that the implant is strong enough to support its given function for long term reliability.
VERSAH DRILL SYSTEM
Specialized Versah drills are available to expand and condense bone during implant placement in order to preserve bone. Conventional implant burs remove good bone during placement.
BONE GRAFTS
Bone grafting when necessary is done on site utilizing several different techniques and options for grafts depending on the patients desires.
Ridge Augmentation
When you lose teeth, and do not replace them, the jawbone deteriorates where the tooth socket once was. This makes it difficult, and in some instances impossible to get dental implants or dentures later on.
We can perform a process called ridge augmentation to restore the bone structure that is needed for restorative procedures such as dental implants. The process involves lifting the gum from the ridge to expose the defected area of the bone. Then the dentist uses a bone like substance to fill the defected areas. The ridge augmentation greatly improves the appearance of the mouth and increases the chances for success with the implants. With ridge augmentation, your implants will last for years.

Sinus Augmentation
Your upper back teeth preserve the bone and position of the maxillary sinus. When you lose upper back teeth, with time the sinus will pneumatize or drop leaving little bone for implant placement if you choose at a later date.
A simple procedure allows the sinus floor to be repositioned, creating enough space to properly place an implant. Various grafting materials are used to encourage your bone to grow more quickly into the area, helping to stabilize the dental implant.