Cosmetic Dentistry is a combination of science and art. It is the dentist's ability to combine the many dental sciences including prosthetics, orthodontics, restorative, implantology, and TMD in an artistic manner to provide the patient with a beautiful smile, natural looking teeth and healthy function. At Chomiak dental we take pride in offering our patients a multitude of options to provide them a beautiful radiant smile to enhance their self-esteem. Different ways to cosmetically improve your smile are:

1. Porcelain Veneers (Lumineers)
Veneers are a very thin shell of porcelain about the thickness of a contact lens which can conservatively be bonded to the surface of teeth to improve their color or shape, close spaces, or cover tetracycline or other intrinsically stained teeth. Their placement usually does not require grinding or numbing the teeth.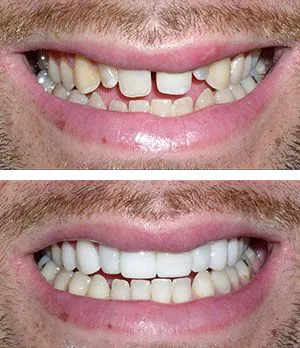 2. Bleaching (Tooth Whitening)

Bleaching is a simple safe way to brighten the color of your teeth. Everyone is now looking for that whiter brighter smile. There are three different types of bleaching systems. In Office Power bleaching systems, home bleaching systems, and a combination of the two.
All bleaching systems use a peroxide based agent. Hydrogen peroxides are a stronger faster acting bleach but breaks down faster. Higher percentage hydrogen peroxides are used for in office bleaching and lower percentage hydrogen peroxides are used for rapid short duration take home bleaches. Carbamide Peroxide agents are slower releasing and are primarily used for slower home bleaching systems.
Generally, the longer you keep a stronger solution on your teeth, the quicker they will bleach and the whiter your teeth become. However, leaving a strong gel on too long can dehydrate the teeth causing sensitivity for about 24 hours. This is in no way harmful or damaging to the teeth but can cause a period of temporary discomfort until the teeth rehydrate.
At Chomiak Dental we offer a variety of excellent bleaching systems. We recommend having a consultation and discussing which is the best and most comfortable system for you.
It is important to note that although bleaching is generally very successful at lightening teeth several shades, results may vary among patients depending on the genetic makeup of their enamel. An important consideration when choosing bleaching, if you have porcelain crowns, veneers or composite tooth colored restorations, these will not be whitened with bleaching and therefore must be replaced to lighten their color to match the newly bleached natural teeth.
3. Orthodontics and Orthopeodics:
The most effective way to improve misaligned teeth or a deficient facial profile is through orthodontics (orthopeodics) or Invisalign. A beautiful smile can make you feel more confident about yourself. See Orthodontics and Orthopeodics.
4. Prosthetics:
Prosthetics is the art of replacing missing teeth either with removable appliances as dentures and partial dentures , or fixed bridges or dental implants. Prosthetics is a usually a combination of dental sciences to rebuild or reconstruct a patient's total bite in order to obtain a new beautiful and functional smile.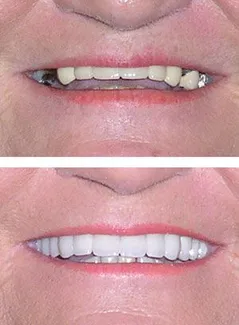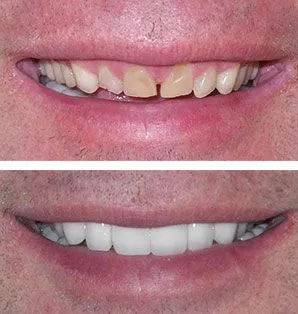 5. Restorative Dentistry:
Restorative dentistry is the art of rebuilding single damaged teeth either from trauma or decay to its natural anatomical structure. At Chomiak Dental we are not just concerned about restoring function, but we expect each restoration to simulate the original tooth in color, form and characterization. See Restorations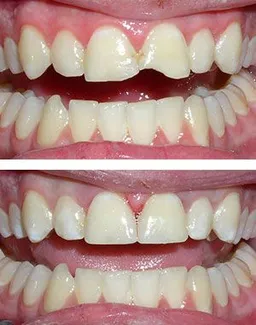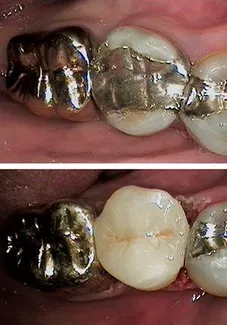 6. Dental Implants:
Dental Implants have become an integral part of cosmetic dentistry providing the ability to replace missing teeth with a very natural appearance and function. They have also become a significant part of prosthetic dentistry in their ability to secure and stabilize prosthetic components. See Dental Implants